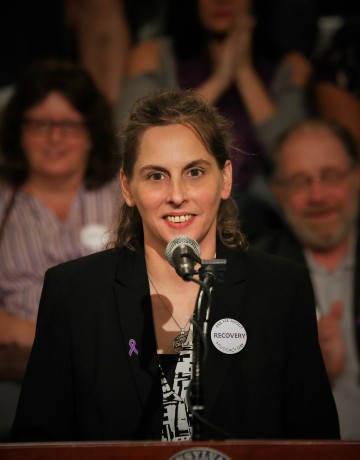 Marianna Reid worked as the program coordinator for the Pennsylvania statewide Recovery Community Organization (RCO) for more than 5 years and has been with Faces & Voices of Recovery since February 1st of 2020. In her current role as a Program Manager with Faces & Voices of Recovery, Marianna manages the Association of Recovery Community Organizations (ARCO) Program to support the development of a diverse national network of recovery community organizations (RCOs). She is also involved in multiple efforts to support the organization's justice, diversity, equity, and inclusion values for a more inclusive recovery space.
Marianna is a person in long-term recovery who is passionate about expanding how substance use disorder care is defined and provided across a long-term continuum that is inclusive of peer services and RCOs. Marianna is a skilled training curriculum developer and facilitator. She is an agent of social change for transforming public views and dismantling systemic practices to more adequately support and elevate recovery, increase equity in accessibility to recovery supportive services, and develop diverse representation in recovery leadership.
Marianna is an energetic public speaker. Her passions include leadership development, the inclusivity of the many voices of recovery, and the power of narration. "The easiest thing I can do to advocate for recovery, is to speak about recovery", says Marianna. She is committed to eliminating disparities in who is able to access recovery and represent recovery through creating space to give space. She believes that the space is not for one to hold, but for all that need space to speak, be heard, and to heal.
Recovery Community Organizations: History & Ecology
October 26, 2022
1:30 pm – 3:00 pm